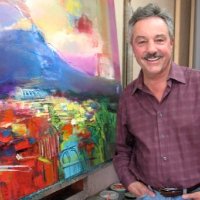 The variation of composition in his John Maxon's work demonstrates his ability to handle all forms of medium. "Paint the struggle. Paint the joy. Above all, paint the Truth." John strives to represent these human inevitabilities through his art.
It is his desire to attempt to paint the great beauty that is around us always and to share his own personal joy in the expression of color. The themes of landscapes, and people and animals within the landscape are simply an homage, and effort to create an awareness of the process that is involved in the joy of living. "
As the days progress, I certainly feel very blessed and inspired." It is this inspiration, which he shares with us, that has made John Maxon such a unique artist. Originally from Wyoming, John is a long-time resident of the San Francisco Bay area and an adjunct professor of art at Cabrillo College in Aptos.
Contact: johnmaxon@mac.com