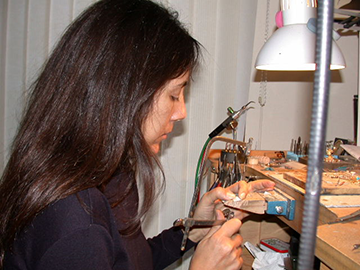 A high school jewelry class set me on my course in metalsmithing. An accomplished fiber artist as well, my favorite creations incorporate these two things. By applying fiber techniques to precious metal using the simplicity of primary shapes, these woven sculptures evoke dream catchers, kaleidoscopes & contemporary filigree.
I am solely responsible for the design and creation of all pieces. The materials I use include sterling and fine silver, 14K and 18K gold & platinum combined with fine colored gemstones and pearls. My pieces are hand fabricated or cast & fabricated and woven with fine gauge wire. The combination of fiber and jewelry techniques in unconventional ways creates my unique look.
A 14K chain price is available for pendants upon request.
Contact: mariescarpa@aim.com