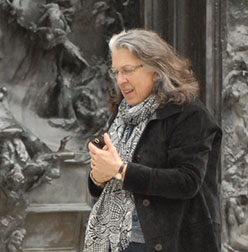 In a blues club in Chicago, listening to Little Milton, Virginia first discovered her ability to transform the sounds and emotions of music into a form. She made a quick sketch. Years later, when she had achieved the proper skills in the medium she had invented—weaving bronze wire—she created the form that elicited the feelings and images experienced.
Many of the sculptures arose specifically from that musical experience. She also creates traditional vessel shapes, but in either case depends on fundamental core feelings to move each work to its final form.
One of the most ancient forms of artistic expression took shape with the use of bronze. Virginia considers it a privilege to be part of that line of creators. And weaving is an even more ancient human activity. To bring those two disciplines together is her great joy.
Contact: wovenbronze@outlook.com