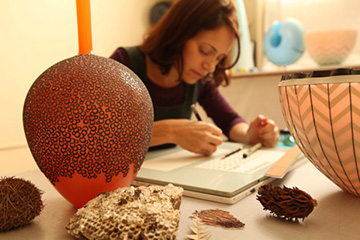 Glass artist Carrie Gustafson. Gustafson's modernistic work is inspired by patterns and forms from nature and art history. Her cold work glass technique begins on the surface of hand blown glass forms, where she applies an intricate pattern of hand cut stencils to the top layer of colored 'flash glass.'
Next, she sandblasts through multiple, translucent under-layers to reveal a matrix of color and light. Carrie experimented in glassblowing while a printmaking major at Rhode Island School of Design (RISD). Merging these two diverse media ignited her signature style of detailed patterning on vibrantly colored, hand-blown glass.
After earning a BFA at RISD in Printmaking, Gustafson studied glass at the Pilchuck Glass School (WA), Penland School of Crafts (NC), The Studio at The Corning Museum of Glass (NY), and at Rosin Studio, on Murano, Venice's historic glass island.
Contact: carrie.gustafson@gmail.com